Leeds United: The Full Story
Leeds City
In 1904, the moderately great and fairly good gathered in the Griffin Hotel in Boar Lane, and set about the establishment of an association football club in Leeds. Leeds City was formed, and the first game at Elland Road was played on October 15 1904. Leeds lost 0-2 to Hull City and enjoyed an undistinguished season in the West Yorkshire League - fielding reserve sides on many occasions while the first team played friendlies against larger clubs.
On 29 May 1905, Leeds City were elected to the 2nd Division of the expanding Football League. To show the club's ambitious intentions, a new stand was built: the Scratching Shed was to last 70 years and to see many changes at Elland Road. Leeds played their first league game against Bradford City at Valley Parade, losing 0-1. Several years followed with the most notable achievement being the club's ability to survive several financial crises.
In 1912, the Leeds club set the pattern of "if-onlys" for years to come: Herbert Chapman was signed as manager, and proceeded to build a solid foundation at the club. The First World War intervened, during which Leeds won the unofficial League Championship by beating the champions of the Lancashire League after winning their own section - not that it is recognised as such. Chapman returned from his wartime job in 1918 and set about rebuilding his team. Then came the bombshell: Leeds were accused of making illegal payments to (their own) players. The resulting FA inquiry expelled Leeds City from the League and banned the directors and - briefly - Chapman from any connection with football. Leeds City were down and out - but Herbert Chapman went on to far greater things, winning a total of 4 League Championships and 2 FA Cups at Huddersfield and Arsenal.
Formation of Leeds United
On 17 October 1919, the remainder of Leeds City's property and players were auctioned off, but later that day several city dignitaries met with some of the "cleaner" Leeds City officials and set about creating a new club. Leeds United was formed, and were elected to the Midland League on 31 October 1919. The chairman of Huddersfield Town - J. Hilton Crowther - proposed amalgamating the new club with Huddersfield and setting up the new operation at Elland Road. After some frantic fund-raising, the board and supporters of Huddersfield bought him out, allowing him to concentrate on his new club.
Within a year, the club was running well, and on 31 May 1920, Leeds United were elected to the Second Division of the Football League. United's first game was away at Port Vale - the team that had lobbied rather over-strenuously to replace Leeds City before the inquiry had completed. Revenge would have been sweet, but Leeds went down 0-2. The first home game pitted Leeds against South Shields. Nearly 17000 people saw Leeds lose again - 1-2 this time - and Len Armitage became the first Leeds United player to appear on a League score sheet.
The Pre-War Years: Oscillate Wildly
Leeds started off with three years of mid-table anonymity in Division Two, but the 1923-24 season saw some well-balanced play and a new-found solidity - particularly at Elland Road where only ten goals were conceded and two games lost. Away from home, performances were not as good, but despite a faltering end to the season - which saw just two wins from eight games - Leeds United won the Second Division Championship and would start next season in the top flight for the first time.
Leeds were not really equipped to handle the level of football at that stage of their development, and the change to the offside law in 1925-26 didn't help matters. 1925 saw the arrival of Tom Jennings from Raith Rovers: his incredible strike rate of 112 goals in 167 games was unsupported by the other forwards, and after finishing 18th and 19th in their first two seasons, a truly abysmal away record (2-1-18) in 1926-27 left Leeds in 21st place and heading back to Division Two.
Like many teams of recent years, Leeds couldn't quite hold their own in the highest division, but were too good for the next level down: they bounced right back the following season, and managed to finish as high as 5th in 1930. The following year, Leeds were relegated - and once again bounced back straight away. Leading up to the Second World War, Leeds managed to maintain their position in Division One, occasionally flirting with the lower reaches of the table, but usually managing a solid mid-table position. One constant through this time was Leeds FA Cup performance: truly awful in this competition, Leeds never made it past the 4th round - and weren't to do so until 1949-50.
During the Second World War, regional league and cup competitions operated using whatever players were available. Some of these players had played for Leeds before the war and were home on leave, or had taken up vital jobs in factories, but many of the others were just pulled in to make up a full side at the last minute, and games played during this period don't really count as 'full' appearances.
Post-War Depression
Billy Hampson's Leeds team claimed an unwanted record for the club in 1946-47, with their away performances reading Won 0, Drawn 1, Lost 21. The team were relying on too many players from the pre-war days, or players who were just too young and inexperienced, and they managed to pick up only 4 points between Christmas Day and the end of the season.
Hampson inevitably resigned and was replaced by long-time club servant Willis Edwards. A wing-half with over 400 appearances for the club and 16 England caps, Edwards had never been booked or sent off in his career - a fact he was rightly proud of. But as we saw in the 1980s, sometimes you need somebody with a bit more fire in these situations. Leeds finished 18th in Division Two, and Edwards resigned.
Leeds next manager was Major Frank Buckley - a man who had made his reputation with the development of Wolves and some astute dealings in the transfer market. Buckley stabilised Leeds' decline, and then he struck gold in the Welsh hills. A 17-year-old lad had been trying to get a break at Swansea for 2 years when Leeds offered him a trial match against Queen of the South. The following Saturday, John Charles - the greatest player in Leeds history - made his debut at Blackburn Rovers.
1949-50 saw an upturn in Leeds' fortunes on the park. With the defence more settled, the team achieved 5th place in Division Two, and made it to the quarter-finals of the FA Cup, eventually losing 0-1 at Arsenal. 1951-52 was disrupted by Charles' departure on National Service, and when he returned, Buckley made more use of him as a centre-forward. Charles scored 26 goals in 40 games, but poor away form left them in mid-table. Buckley decided he could go no further with the club and resigned at the end of the 1953 season.
Raich Carter took over, and succeeded in rubbing up several players the wrong way. And when 1954-55 started with 5 defeats in 6 games, Carter's days looked numbered. Charles reverted to centre-half and the resulting defensive improvement nearly brought First Division football back to Leeds as they finished the season with an 8-game unbeaten run to end up 4th.
Although he has always given credit to other members of the team, John Charles contribution of 29 goals in 42 games made sure that 1955-56 saw Leeds safely home in 2nd place of Division Two and promoted back to Division One after nearly 10 years away. 1955-56 also saw the start of a bizarre run of three successive years in which Leeds drew Cardiff City at home in the 3rd round of the FA Cup, losing 1-2 in each case.
Another astounding season from John Charles followed - with 38 goals in 40 games, including 4 in his last two as he made one last effort for the club before his transfer to Juventus. Nobody would want to sell a player like this, but the destruction of the under-insured West Stand after a fire earlier in the season left the club desperate for money - and Juventus had plenty. Charles would win 3 championships and a Player of the Year award in Italy, and is still warmly welcomed back to this day.
The team's dependency on Charles became clear over the next two years as the goals for shrunk, and despite the presence of a useful young centre-half called Jack Charlton, and an intelligent inside right by the name of Revie, the team's fortunes declined. Raich Carter's contract was not renewed, and he was replaced by his coach Bill Lambton who again faced unrest from the players. Lambton's main contribution to the club was the setting up of a youth policy that soon turned up Billy Bremner and was to deliver several more famous names. Less than a year later, Lambton was on his way, handing over to Jack Taylor who saw the club relegated at the end of the 1959-60 season.
With the club firmly in the bottom half of Division Two, Taylor resigned in March 1961. Who could the club turn to? Who could halt the slide?
The Revie Revival
Don Revie was reaching the end of his playing career in 1961, and fancying his chances at management had asked director Harry Reynolds for a reference for the vacant job at Bournemouth. Before he finished it, Reynolds realised what the club would be losing if Revie left, and a couple of days later, Don Revie was named as the new Leeds manager.
Revie lost his first match in charge, and managed just a single win before the end of the season - but one of those games saw the debut of Albert Johanneson, a 21-year-old black winger from South Africa. As his first full season in charge started, Revie was faced with making the best of the same players whose apathy and lack of direction had resulted in relegation. With Jack Charlton established at centre-back, and the 18-year-old Bremner now a regular in the team, the backbone of the side that excelled over the next 15 years was there, but money was short, and Gary Sprake, Paul Reaney, Terry Cooper, Norman Hunter and Jimmy Greenhoff were still in the youth team.
One of Revie's most famous acts was to dispense with Leeds' old blue and gold strip, and replace it with the all-white of Real Madrid. Although it seemed an act of arrogance at the time, it was all part of Revie's plan to make the players - and the opponents - believe that Leeds United were not just another make-weight club side. Equally significantly, 1961 saw Manny Cussins and Albert Morris join Harry Reynolds on the board. All three men dug into their personal fortunes and lent the club the money it would need to grow. Despite all this, things still didn't click on the pitch and Leeds finished 19th in Division Two - although the arrival of Bobby Collins from Everton for £25,000 was followed by a solid 9-match unbeaten run up to the end of the season which kept Leeds safe.
1962-63 saw the brief return of John Charles and the arrival of Jim Storrie from Airdrie. A poor start to the season snapped Revie's patience with his players, and Gary Sprake, Paul Reaney and Norman Hunter were brought into the first-team. And when Billy Bremner picked up an injury, Revie drafted in Peter Lorimer - aged 15 years and 289 days. After the winter freeze compressed the second half of the season, Leeds finished strongly and ended up in 5th place.
Summer 1963 saw the arrival of the 23-year-old Johnny Giles from Manchester United, and a solid start to the season saw promotion beckoning. Home and away, Leeds played to their system, and once ahead would sit on the lead and make teams come at them. Several injuries left the squad looking somewhat threadbare, but the signing of Alan Peacock in February reinvigorated the team, and with two matches still to play, Leeds guaranteed their promotion with a win at Swansea on April 11. Two weeks later, the final match of the season brought the Second Division Championship to Leeds as Charlton were defeated 2-0.
(Almost) Always the Bridesmaid
Leeds' previous record in the top flight was not much to write home about - and expectations were not exactly sky high when Revie's team started out in Division One. Three successive wins - including 4-2 against Liverpool - started to change that. With more reporters present, and with Leeds sometimes intimidating approach to the opposition, Leeds' reputation for physicality and toughness grew. But - like so many other labels and generalisations - hid the real truth. Leeds were a supremely fit team who played for each other, with a manager who analysed the opposition in depth for each weakness that could be exploited. In Bremner, Collins and Giles they had a superb midfield, and Hunter, Charlton, Reaney and Bell provided solidity in front of the excellent, though much-maligned Sprake.
A shaky period in September/October was followed by a great run to the end of the season that saw Leeds lose just 3 out of 32 games. Meanwhile, they progressed to the final of the FA Cup. But both challenges faltered at the final hurdle. Leeds had beaten Manchester United after a replay in the FA Cup semi-final, but they had their revenge in the league: both teams finished on 61 points, but Leeds were placed second on goal average. Leeds held Liverpool 0-0 for 90 minutes at Wembley, but returned home empty-handed after Ian St. John scored Liverpool's winner with 9 minutes of extra time remaining.
1965-66 saw Leeds play in Europe for the first time in the Inter-City Fairs Cup, and they progressed well - but at a price. Bobby Collins had his thighbone broken by a vicious challenge as Leeds defended a 2-1 first-leg lead in the second leg against Torino. Leeds made it through to the semi-final before going down in a replay against Real Zaragoza. They couldn't repeat the previous year's success in the FA Cup, and the European games probably distracted the team from their league form - and second place in Division One was the only reward from a promising season.
1966-67 saw the debut of Eddie Gray - a great player, whose name would be among the all-time greats if he had been less prone to injury. The versatile Paul Madeley also made his debut this year. Leeds' league form was not as convincing this season, particularly away from home - and the end result of the season was probably not helped by being required to play 9 games in 26 days. Leeds reached the semi-final of the FA Cup, where they went down 0-1 to Chelsea - despite having a Lorimer free-kick in the back of the net: ref Ken Burns disallowing the goal "because Chelsea weren't ready". Funny really - I always thought free kicks were supposed to penalise the perpetrators, not make life easy for them. Leeds went one better in the Fairs Cup - reaching the final which was held over to September, but here too they went down 0-2 on aggregate to Dinamo Zagreb.
1967-68 saw a poor start and a poor end to the league season, with a good run in the middle that brought a 7-0 win over Chelsea. Mick Jones joined from Sheffield, and scored 8 goals in 25 league starts. Meanwhile a solid run in the League Cup finally brought a trophy to Elland Road after nearly 50 years. Arsenal were beaten by a goal from Terry Cooper in an undistinguished final - but that didn't matter - Leeds had won some silverware. A mistake from Gary Sprake led to the penalty that gave Everton the victory in the FA Cup semi-final, but the Fairs Cup provided some further glory. The two-legged final was played in August/September, and Mick Jones goal in the first leg was played in front of the newly-built Kop. The second leg was drawn 0-0 and another trophy was on show at Elland Road.
In 1968-69, early defeats in the League Cup and going out in a 3rd round replay in the FA Cup enable Leeds to concentrate on the league. And concentrate they did: unbeaten at home all season, they had to play Everton and Liverpool - the 3rd and 2nd placed teams - in 2 of the last 3 games. Two goalless draws on Merseyside saw the League Championship safely back at Elland Road, and victory in the final game over Nottingham Forest meant that Leeds had done it with a record number of points, the fewest defeats, and the fewest goals conceded.
If ever there was an "almost..." season, it was 1969-70. Leeds were on for a treble, with the European Cup, the FA Cup and the championship all beckoning. But 12 games in 31 days took their toll. Leeds got past Manchester United and into the FA Cup Final after two replays, but they could not raise their game to beat Celtic in the European Cup semi-finals: the largest crowd ever to watch a football game in Britain saw them lose 1-2 at Hampden Park 4 days after a drawn FA Cup Final at Wembley. Leeds faced Chelsea at Old Trafford in the FA Cup replay, but had nothing left in the locker - going down 1-2 to an extra-time winner.
1970-71 passed relatively uneventfully - with Leeds coming second (again) in the league to Arsenal, being surprisingly beaten by Colchester in the FA Cup, and winning the Inter-City Fairs Cup again, beating Juventus on the away goals rule.
Leeds made an early exit from Europe the following year, and after an unimpressive start to the season began to put a good run together. By the time May came around, Leeds were in the FA Cup Final and were in the running for the championship. Allan Clarke's goal sealed victory at Wembley, but the FA and Football League's intransigence - combined with some brave play from Wolverhampton - denied Leeds the title as, just two days after their Wembley triumph, they were forced to go to Molineux to finish their league campaign. Leeds lost 1-2, the title went to Derby and another Double chance went by the board.
1972-73, like 1969-70, is another season to forget for Leeds fans. With age and injuries starting to take their toll, Trevor Cherry, David Harvey and Joe Jordan joined the club, and all were destined to make a major contribution to subsequent success. The FA Cup Final that year is, of course, one of the most widely remembered. Unfortunately it is remembered for Ian Porterfield's goal and Jim Montgomery's double save from Peter Lorimer. The European Cup Winners Cup Final against AC Milan 10 days later is also remembered - mainly for the disgraceful performance of the Greek ref, Christos Michas. After awarding a dubious free-kick to Milan, from which they took the lead after 4 minutes, Michas turned down 3 Leeds claims for penalties - 2 of them dead certs. Near the end, Norman Hunter, best known for his own aggressive tendencies, finally snapped after being kicked and seeing the perpetrator go unpunished one too many times and was sent off along with the AC Milan player. Leeds never managed to equalise, but at the end were acclaimed by the Greek crowd as the real winners of the game. Michas was suspended by UEFA immediately after the game, but Leeds were never offered the chance to set the record straight on the pitch.
By contrast, 1973-74 is regarded by many of the Elland Road faithful as the greatest in the club's history. Not only did it end with the Championship trophy at Elland Road for a second time, it also saw Manchester United relegated to the Second Division. The campaign started with 7 straight wins, and although they went out of the League Cup early, and went down in the 3rd round of the UEFA Cup, it wasn't until February that they were defeated in the league, losing 2-3 at Stoke. A late blip of three defeats in a row at the end of March kept the title race alive with Liverpool chasing hard, but when the final home match of the season ended with Leeds 3-2 victors over Ipswich, the title race was all but complete. 4 days later, huddled around radios across the land, the news came from Anfield that Arsenal had ended Liverpool's unbeaten home record and delivered the title to Elland Road. Leeds' final game of the season was a 1-0 victory at QPR - it was to mark the end of an era.
In the close season, Don Revie took charge of the England team - even the chance of going for a second European Cup was not enough to tempt him to stay. He recommended Johnny Giles as his successor, but for reasons that will probably never be fully understood, the board chose the man who was then managing Brighton. Brian Clough arrived at Leeds and immediately alienated the majority of the players who were told that they had only won their medals because of their cheating. He brought in John O'Hare and John McGovern - who was immediately thrown in at the deep end, being pressed in to replace Billy Bremner, who was banned for 8 games after fighting with Kevin Keegan in the FA Charity Shield. After just a single win in the first seven league games, the pressure and discontent of the players finally told. After just 44 days, Brian Clough was forced out - but took a sizable payoff with him and left the board with a real headache.
Jimmy Armfield was called in and set about stabilising things. McGovern and O'Hare - very much Clough's men - were sold, and Eddie Gray made a recovery from the injuries that had threatened his career. Although their League position never really recovered from the poor start, Leeds made it through to the quarter-finals of the FA Cup, going out in the 3rd replay against Ipswich, and were making steady progress towards the final of the European up. A 2-1 win at Elland Road gave Leeds a useful advantage to take to the Nou Camp against a Barcelona team including the great Johan Cruyff. Things were looking better still when a Lorimer goal in the 7th minute put Leeds further in front. Barca equalised, but David Stewart's goal was not breached again and the final beckoned. But for the second time in three years, Leeds' European hopes were dashed by bizarre refereeing. After 67 minutes, Peter Lorimer's thunderbolt hit the back of the Bayern net. The linesman ran back to the halfway line thinking it was a valid goal, but the French referee believed Billy Bremner - who was running back from an offside position had interfered with play. Quite how he was interfering with a 70mph shot is unclear. Add that to two first half penalty claims that the referee also turned down, and Leeds frustration was mounting. The inevitable happened and theywere caught by a sucker punch, and conceded a second as they pressed for a late equaliser. A large section of the Leeds fans in the ground were less than impressed, and proceeded to dismantle the Parc des Princes. This was also the real end of the Revie era, the last fling of the great team he had assembled.
1975-76 was an understandably depressed season, but Leeds still managed 5th in the League. 1976-77 saw the final games of Billy Bremner and Norman Hunter and the arrival of one of the greatest entertainers of the 1970s - Tony Currie. This was a disappointing season in the league, with the 10th place finish the worst for many a year. The FA Cup provided better news, but Leeds eventually went out in the semi-final to Manchester United after conceding two early goals.
1977-78 saw the departure of Joe Jordan and Gordon McQueen to Manchester United, with Ray Hankin replacing Jordan up front and bagging 20 goals. It also marked the end of the line for Paul Reaney and Allan Clarke and - at the end of a season that saw Leeds reach the League Cup semi-finals but only finish 9th in the League - Jimmy Armfield. Armfield had taken a team that was past its peak, stabilised it and produced a reasonable amount of success. But with the success of Don Revie's teams so vividly imprinted on the board and the fans, that wasn't enough.
At the start of the 1978-79 season, Leeds had managed to persuade Jock Stein to come down from Scotland to manage the team. He never made much of an effort to settle in Leeds, and when - as some suspect he expected - the call came from the Scottish FA to take over the national side, he recrossed the border after just 44 days in charge at Elland Road. Jimmy Adamson was recruited to take over. After a poor start to the season, Leeds recovered and again made the League Cup semi-finals, but after a 2-2 draw at home, went down 0-1 away, and 5th place in the League was respectable enough to qualify for the UEFA Cup next season.
1979-80 saw another poor start to the season, and soon the crowds were baying for Adamson to quit. He was granted a reprieve by the form of two new young players - Terry Connor up front, and John Lukic between the sticks. But with the goals drying up, Leeds could only manage 11th place and Adamson was on his way after his team managed just one win in the first five games of the next season..
Down Down Deeper and Down
With the team playing unentertaining football and goals drying up, it's not totally surprising that the board turned to Allan Clarke as the man to restore the club's fortunes. He had taken Barnsley up from the 3rd Division and it must have made sense at the time. But goals didn't come, and only the fact that he was able to mold a stable defensive unit, with Eddie Gray now operating at left back, kept Leeds afloat. The club scored just 39 goals in the League, with Carl Harris the only player to make double figures.
1981-82 started badly, with defeats of 1-5, 0-4 and 0-4 in the first six games. Record signing Peter Barnes completely failed to justify his £930,000 price tag, scoring just 1 goal in 30 league appearances. By the end of January, Leeds were out of both cup competitions and had only managed to accumulate 23 points - but worse was to follow. Frank Worthington was a late recruit to the campaign to stave off relegation, and despite the fact that, at 33, he was no longer at his peak, his 9 goals in 18 games made him the top scorer. The penultimate game was at home to Brighton, and after seeing the side go one down, most supporters feared the worst. Incredibly, Leeds turned it around with goals from Gary Hamson and the much-maligned Kevin Hird. Three days later, the team had to travel to West Brom without the suspended Worthington. A 0-2 defeat left the final nail poised above the coffin, and when Stoke drew with West Brom a couple of days later, it was hammered home and Leeds' demotion from the top flight was confirmed.
In the summer after relegation, Allan Clarke was sacked, and with large debts and no money to pay the top wages necessary to attract the best players and a "name" manager, Eddie Gray was offered the chance to step up from running the youth team and take charge of the first team. Off the field, Leeds' fans sought every opportunity to justify their reputation as the hardest show in town, starting out with a good trashing of Cleethorpes as Leeds opened the season away to Grimsby. The FA closed the Kop for two games as a result of the violence, and the fans were told in no uncertain terms that the club faced closure if the problems continued. On the field, Eddie Gray was forced to juggle with young players and set up player exchanges, which is no way to aim for promotion. Terry Connor was swapped for Andy Ritchie: it was sad to see a talented local player leave, but in Ritchie the club acquired an excellent player who would serve Leeds well over the next few years. Some people expected Leeds to bounce straight back, but April and May saw the team pick up just 8 points out of 27 to finish 8th.
1983-84 was no better: just 7 points from the first 9 games, and with John Sheridan nursing a broken leg, the 37-year-old Peter Lorimer rejoined the club to provide cover in midfield. The crowds stayed away, Leeds finished 10th, but Eddie Gray had put together a good band of young players - including Dennis Irwin at full-back: all they needed was a little time.
1984-85 saw the youngsters (and, playing in nearly every game, Peter Lorimer) put together a challenge for promotion that went right to the final game of the season at St Andrews. Ian Baird had joined from Southampton to provide some much needed fire up front, and had scored 6 goals in the previous 6 games. But it was a bridge too far for Leeds - the team went down 0-1, there was a pitch invasion, and while the crowd tried to get out of the ridiculously small pen that Birmingham had put them in, an old wall collapsed, killing a teenager.
With players such as Andy Linighan, John Sheridan, Scott Sellars, Dennis Irwin and Tommy Wright, Eddie Gray had the foundations of what could have been a talented team. But money was still short and time ran out in October 1985 when the board decided to sack Gray. The players didn't like it, the fans certainly didn't like it - holding a massive protest in the West Stand car park - and one director resigned, but Leslie Silver stood firm on his decision. Possibly motivated by a need to get the fans back on the board's side, Billy Bremner was announced as Leeds' new manager. Bremner's managerial record at Doncaster was nothing to shout about, but his achievements on the field ensured he received every respect from the fans. Ian Snodin was acquired from Doncaster, but this season saw the departure of several players who were subsequently valued at considerably more than Leeds' selling price: Sellars, Linighan, Terry Phelan, and Dennis Irwin all left: the club finished 14th, but more was demanded.
1986-87 was another "almost" year. Ian Snodin was sold for a club record £800,000, but the money from that sale brought in Micky Adams, John Pearson and Mark Aizlewood. Leeds managed a decent run - largely against less than first-rate opposition - in the FA Cup and found themselves facing Coventry at Hillsborough in the semi-final. David Rennie put Leeds one up, but Brendan Ormsby's mistake turned the tide against Leeds. He inexplicably tried to shepherd the ball out of play but conceded possession and saw Coventry equalise. Keith Houchen put them ahead before Keith Edwards equalised for Leeds with five minutes to go. Leeds tired in extra time and went down to a third goal. Meanwhile Leeds weren't doing that badly in the league and finished 4th to go into the play-offs. Oldham were defeated on away goals, and Leeds faced Charlton in the two-legged final. Leeds went down 0-1 away from home, but a Brendan Ormsby goal reversed that scoreline at Elland Road. Leeds would once again have to travel to St Andrews for the last match of the season - the venue for the play-off replay. 90 minutes passed without a goal, but in the first period of extra time, the Leeds fans went wild as John Sheridan scored from a free kick. Their joy turned to blank despair as Peter Shirtliff scored twice in the last 10 minutes: Charlton stayed up and Leeds stayed down.
After a season like that, teams either go from strength to strength or fall back into a slump. Leeds slumped. Bobby Davison, signed from Derby, and Bob Taylor formed Leeds' main striking partnership, and Bremner saw a tigerish young midfielder by the name of David Batty graduate to the first team. Even so, a sustained run of success eluded the team: 7th place meant another year in the second division.
1988-89 was a significant year for Leeds, but it started poorly with just one win in the first six games. It became significant when that form resulted in the sacking of Billy Bremner and the arrival of a man associated with dour, route-one football. But he was managing a First Division club with some success, and when Leslie Silver persuaded him to join, it made a lot of people sit up and take note. The new name on the manager's door was Howard Wilkinson.
Wilkinson made several cheap/free transfer acquisitions: Mike Whitlow and Andy Williams were the first in. By the time Hull City visited Elland Road, Leeds had played 12 games and won just one. Goals from the recently returned Ian Baird and John Sheridan doubled that tally, and a mid-season run had Leeds heading for respectability. With the transfer deadline approaching at the end of March, Wilkinson pulled two rabbits out of the hat. Chris Fairclough was signed from Spurs to provide more pace and a fierce talent for man-marking at the back, and in what must be one of the steals of the decade, he persuaded Gordon Strachan to leave Manchester United and come to Elland Road. Strachan wasn't getting much football at Old Trafford and needed a change: just £300,000 was enough. Carl Shutt was also signed at this stage, making his debut with a hat-trick against Bournemouth. Club captain Mark Aizlewood had not been playing that brilliantly and had been taking some stick from the fans: when he bagged the goal that beat Walsall on May 1, he "made a gesture" - as they say - to the Kop. Sergeant Wilko's disciplinary action took immediate effect: he was subbed, stripped of the captaincy and never played for the club again.
S#*! or Bust - Promotion's a Must
...as the t-shirts said at the start of the 1989-90 season. For a couple of years, Leeds mastered the art of the surprise transfer, and also managed the even harder job of getting good value from the players concerned. Mel Sterland joined from Glasgow, providing solid defence, great crosses and scorching free kicks. John Hendrie and John Mclelland were recruited from Newcastle and Watford. And then there was the marriage that some said was made in heaven: Leeds fans, known for their less-than-perfect behaviour, and Vinnie Jones, the hod-carrier with a reputation as the game's hard man. Now we knew that Wilko meant business: he recognised the need to play good passing football (Strachan), but he also knew that to climb out of Division Two there was no substitute for team spirit and controlled aggression.
A first-day defeat - 2-5 on a gloriously sunny day at Newcastle - did nothing to dampen the Leeds fans' belief that this would be our year. A few wins, a few draws and the start of November saw Leeds in second place. A nailbiting home win over Newcastle in December, followed by a win at Middlesbrough the following week saw Leeds top the pile. And that was where they stayed. Lee Chapman was brought in to make more of the crosses that Strachan and Sterland provided, and he duly obliged with 13 goals in 21 games. Easter saw nearest rivals Sheffield United slaughtered 4-0 at Elland Road - a victory made all the more sweet by the fact that they were the subject of a fly-on-the-wall documentary at the time, so we got to see close-ups of their pain the following week. A bizarre away draw at Brighton was followed by the first home defeat of the season, as Barnsley beat the odds to win 2-1. Leicester provided the opposition for the last home game of the season, and when Gary McAllister produced a screamer to equalise Sterland's opening goal, nails were bitten to the bone - surely we couldn't blow it now and end up in the play-offs? Gordon Strachan settled the nerves with a massive shot, but when full-time came the rumours from the radio started circulating - were we up already? As is usually the case, the rumours were false: Newcastle and Sheffield were still in the hunt, and if Leeds lost to Bournemouth, they could end up in 3rd place.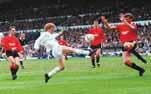 Gordon Strachan in action in the crucial game against Leicester - buy the signed photo now from Big Blue Tube!
Much has been said about what happened off the field at Bournemouth on that Bank Holiday weekend. 2000 tickets were allocated to Leeds, thousands more - myself included - turned up to see if we could get in. There was a bit of trouble on the Friday night, but by Saturday afternoon, those with tickets were in the ground, the rest of us were sitting outside in the park listening to the tannoy. We were surrounded by police - but most of them had removed their riot gear, realising there was no problem here. The locals were friendly and helpful - letting half a dozen fans cram into a bedroom with a view of the ground, passing out cold water to the fans sweltering in the park. Bournemouth had plenty to play for - relegation was imminent - and the game was very tight. Over the tannoy came the news that we needed to breathe a bit easier: in one of the best transfer deals of the season, Ian Baird had been sold to Middlesbrough, and on the last day of the season he had done his former employers a massive favour by scoring against Newcastle. Back inside the ground, Chris Kamara crossed, Lee Chapman headed and the game was over. Leeds were back in Division One as champions, and the second most nail-biting season of my Leeds-supporting life came to an end.
The first season back in the the top flight also saw some good runs in various cup competitions: the League Cup semi-finals were reached, the Zenith Data Systems Northern Final, and the FA Cup tussle with Arsenal went to a 3rd replay. Leeds lost them all, but were in 4th place in the League from the turn of the year to the end of the season. After just over a year with the club, Vinnie Jones was surplus to requirements. Having done his job, he found he could not command a regular place in a midfield of Strachan, McAllister, Batty and Speed, and so he went down the M1 to Sheffield United with the heartfelt thanks of every Leeds fan. Although he picked up a couple of yellow cards in the promotion season, he was neither sent off nor banned: Sergeant Wilko's discipline had made him realise that he was only any use to us if he was playing.
Champions!
1991-92 started pretty well: two wins in the first three games, then on to Old Trafford where an early Lee Chapman goal was cancelled out by a late equaliser from Bryan Robson. Leeds only league defeat before Christmas came at Crystal Palace, and much to many people's surprise, Leeds hit the top in December. Defeat in the FA Cup and League Cup at the hands of nearest rivals Manchester United was tempered with the knowledge that this meant they would have more games to play and a fixture pile-up loomed. One of the highlights of this season was Leeds' performance at Sheffield Wednesday. Live on TV, the referee awarded one of the most disgraceful penalties I've ever seen: Gordon Watson - who has recently been trying to tout sympathy and compensation for an injury suffered during a game for Bradford - produced a dive worthy of an Olympic medal. Chris Whyte was the nearest player - 2 yards away - and when both the ref and the linesman indicated that Sheffield Wednesday deserved a penalty the air turned blue. Former Leeds favorite John Sheridan scored from the spot, Leeds kicked off and proceeded to ensure that the pathetic cheating of the Wednesday players would not be rewarded. Lee Chapman bagged a hat-trick, and was denied what would have been the goal of the season by the cross-bar. Tony Dorigo, Rod Wallace and Mike Whitlow all got a goal and the only disappointment for the Leeds fans was that we didn't score 7.
February 8 saw a non-descript performance at Oldham that brought only the second defeat of the campaign. But the press were staring at the dug-out where the Howard Wilkinson's latest signing was waiting to make his debut. Eric Cantona's signing was seen as a gamble - but a cheap one, and his more spectacular goals illuminated the season - but he was rarely a player to dig in when the team needed it. But he could really turn on the power when he wanted to, and that's why the fans loved him. Leeds were quickly back on the winning trail and moved back to the top with a win at Spurs in early March. But an aberration at QPR the following Wednesday saw Leeds go down 1-4. A Chapman hat-trick against Wimbledon was followed by draws against West Ham and Arsenal. A visit to Manchester followed - to Maine Road - and again our doubts were exposed: a flat-footed, confused Leeds were beaten 0-4. A spectacular Cantona goal was one of the highlights of a 3-0 drubbing of Chelsea, but the next game was away at Anfield. There are two things I remember about this match: Chris Fairclough's superb display, man-marking John Barnes and pushing him so far back, Barnes was effectively playing at centreback by the end of the game; and then there was the result from Kenilworth Road. Manchester United could only manage a draw against relegation candidates Luton: on a day when we thought we'd be lucky to get a point, seeing Man U drop 2 points was a huge boost.
Easter Monday saw the top two in action again. At lunchtime, Nottingham Forest travelled to Old Trafford and came away 2-1 winners (thank you Scott Gemmill). At teatime Leeds took on Coventry and won 2-0 through Fairclough and McAllister - we were back on top! Two days later, Man U were away at West Ham and put the home side under relentless pressure - but Kenny Brown became another non-Leeds player to guarantee himself free drinks whenever he passes through West Yorkshire by scoring the only goal in West Ham's 1-0 win. Two games to go, and Sunday April 26 was a double derby day: Leeds went to Bramall Lane in the morning, and Man U visited Anfield in the afternoon. After the first game, I finally understood what was meant by the phrase 'emotional rollercoaster'. Alan Cork scored first, but just before half-time a goalmouth ricochet left Rod Wallace claiming the equaliser. Jon Newsome's unmarked header in the 2nd half raised our hopes, but Lee Chapman's attempts to clear a Sheffield corner made it 2-2 and we were back down to nailbiting time. With a quarter of an hour to go, the Sheffield defence made a looping backpass to Mel Rees, their keeper. Wallace and Cantona chased it, Brian Gayle and Rees completely failed to agree who was doing what and the Leeds end went crazy as Gayle's header looped over the stranded keeper and into the net. Back at Anfield, Ian Rush was an injury doubt, and only managed just half the game - but in that time he broke his scoring duck against Man U. With 2 minutes of the game to go, Mark Walters scored a second and 18 years of waiting was at an end. The final game at home to Norwich saw the trophy presented, and after six months of watching Leeds play, praying for them to hold on to a one-goal lead, listening to the other scores on the radio and hoping that a late goal wouldn't give Man U an advantage, I remembered what it was like to watch a football match and enjoy it. A Rod Wallace goal brought a final victory to the Champions and we headed off for our summer holidays looking forward to a European adventure next season.
Dazed and Confused
It goes without saying that, as League Champions, Leeds would be a prime target for enthusiastic performances by teams and players looking to improve their reputations. Even so, 1992-93 started off well, with a 4-3 victory over Liverpool in the Charity Shield, and by the time we trooped across to Germany for the first round of the European Cup in Stuttgart, things weren't looking too bad. David Rocastle had been brought in to cover/replace Gordon Strachan, but Eric Cantona was a little perturbed to find he was not an automatic choice ahead of Rod Wallace and Lee Chapman. Cantona was apparently ill in Stuttgart - that probably explains his lacklustre performance and the way he gave the ball away for the Germans' third goal, but it doesn't explain the rest of the team. When Stuttgart returned to Elland Road, the country had written Leeds off - but in one of the best performances by any English team in Europe, Leeds put Stuttgart under relentless pressure to win 4-1. The away goal should have been enough - but in their desperate attempts to keep Leeds out, the German coach had inadvertently broken a UEFA rule by fielding too many 'foreign' players. On Tuesday October 6, UEFA ordered that there should be a replay in Barcelona - on Friday 9! With less than 3 days to organise anything, it was a miracle there was anyone there at all, but 3000 Leeds fans in a crowd of 7400 made as much noise as we could in a stadium built for 110,000. Leeds went a goal up, but the Germans pulled it back, and with time running out, Wilkinson substituted the anonymous Cantona with the hard-working Carl Shutt. Within a minute of coming on, Shutt justified his manager's faith with what was to prove the winner.
The European run went no further: Leeds made a great start at Ibrox with a McAllister goal, and Strachan had a perfectly good goal ruled out for offside. The Ibrox lights then managed to get into John Lukic's eyes, the keeper missed a seemingly easy ball and Rangers were back in it and went on to win 2-1. Back at Elland Road, the referee again changed the course of the game as he failed to see John Brown's punched clearance in the Rangers area. The ball went straight upfield to Mark Hateley who scored the best goal of his career and Leeds were buried. Cantona was becoming increasingly detached from the rest of the team - but the rest of the team were equally at fault: having won the Second Division and then the First with a mixture of skill, commitment and team spirit, it seemed as if the players now thought they deserved to win games. At Watford in the Coca-Cola Cup, Cantona had 3 excellent chances and spurned each one: he just couldn't be bothered. When he was left out of the starting line-up for the next home game against Arsenal, he had a tantrum and stormed off. Wilkinson's choices for that game proved the manager right as Arsenal were hammered 3-0, but this was one of the last high-spots of the season. The following week, Cantona was transferred to Manchester United: in a well-documented phone call, Wilko had contacted Alex Ferguson to ask about the availability of some of his players, and Ferguson had countered by asking if Lee Chapman was free. The answer to that question was negative, "...but there is someone you might be interested in....". It rankled that we couldn't find a home for such a talented player. It rankled that we sold him to Man U. But most of all, it stuck in the throat that we had let a player of that skill go for just £1.2 million: a player who would be instrumental in the subsequent success of our arch-enemies.
Two other remarkable things about this campaign: Leeds managed a grand total of zero away wins in the League: I'd brought a bottle of champagne back from Barcelona in October, laughingly saying I'd open it when we won away. It was to remain unopened for nearly a year. Meanwhile the Youth team were doing very well, bringing home the FA Youth Cup by beating Manchester United home and away. We had great hopes for the players in that side, but few have managed to make it at the very highest level.
1993-94 saw the Championship winning side start to break up: Mel Sterland retired through injury, and Chris Whyte and Lee Chapman dropped down a level. David O'Leary joined the club to give us more experience and nous at centre-back and Brian Deane returned to his hometown for £ 2.7 million. This season also marked the emergence of Gary Kelly, appearing in all 42 league games at right back. Despite a typically half-baked performance in the cups, Leeds put together a good league run which was crowned by a 5-0 thrashing of Swindon - goals which took their tally to 100 conceded in a season.
1994-95: victory over Man U at home, defeat by Mansfield in the Coca-Cola Cup. Another typical season really. Then there was the phone call: "Jon - have you heard the news?" - "What news?" - "We've just signed the worst player in the country!" - "Who's that then - Carlton Palmer?" - "Yep!". Signed as a centre-back, he was rapidly moved back to midfield where his undoubted enthusiasm could be best used without his sometimes clumsy challenges costing us too much. This season also saw the arrival of two "unknown" players from South Africa: striker Phil Masinga and left-sided midfielder/centreback Lucas Radebe. In the FA Cup it took a late David Wetherall equaliser to spare our blushes when we were one down at Walsall, and we found ourselves facing Man U at Old Trafford in round 5. New signing Tony Yeboah was apparently not fully fit yet, but when he came on he terrorised the Man U defence and scored an excellent goal - not that it made much difference since we had conceded two early soft goals and ended up losing 1-3. Nevertheless, a run of 9 wins in the last 13 games put Leeds on course for another 5th spot, and this year that meant European football next year.
Leeds made a pretty good start to the season, with Tony Yeboah producing goals that were destined to feature on Match of the Day credits and Goal of the Season tapes. The UEFA Cup pitted us against Monaco, and in the first leg Yeboah showed just what he was capable of: a hat-trick of style and quality away from home in Europe. The next round showed Leeds' frailty as we went down 3-5 at home and 0-3 away against PSV Eindhoven. Tomas Brolin became Leeds' record signing: he appeared unfit but clearly had some talent and with Leeds making progress through the Coca-Cola Cup against lower division opposition, it looked like he was finally going to get his chance to show it against Aston Villa at Wembley in the final. Leeds attack was looking threadbare by this stage: Yeboah was injured, Whelan had been sold and Masinga only threatened occasionally. As soon as the team was announced at Wembley I nearly got up and went home. I stayed and saw a clueless Leeds team be outclassed by a very average Villa side. Wilkinson left the pitch to chants of "Wilko Out!" from the Leeds fans. The league season went nowhere with Leeds finishing 13th.
In summer 1996, Leeds were taken over by the Caspian group - but the whole thing was held up by legal action that hamstrung Leeds' ability to buy new players. Gary Speed went to Everton, having needed a new challenge - or a substantial kick up his substantial arse - for two years. When the legalities were sorted, Lee Sharpe, Nigel Martyn and Lee Bowyer were signed along with the aging Ian Rush. Leeds didn't make a bad start to the season with 2 wins and a draw in the first 4 games. When Manchester United came to Elland Road, injuries forced Wilkinson to field an under-strength side and defeat against the best team in the country was always likely. The fact that it was at home, against Man U and the 4th goal was scored by Eric Cantona did not go down that well, and the chants of "Wilkinson out!" rang around the ground. The new board decided to flex their muscles and sack the manager who had turned the team around after just 5 games of the new season.
Zzzzzzz
Now let's get this clear: I was never a fan of George Graham, and the manner of his departure only served to confirm my belief that he is a miserable slimeball who could be trusted about as far as you could throw him. It's true he wasn't that supported or well-treated by Arsenal over the bung allegations, but that doesn't excuse his dishonourable behaviour towards Leeds. It was clear from the start of the season that he was going to be brought in at Leeds - being retained as 'Football Consultant' by the Caspian Group, who would look for the thinnest pretext to get him in. They found it, and in he came.
Time for the vaguely fair bit: when he arrived, he found a club in which the players were split, where team spirit was low and the defence was constantly changing. Sure, he stabilised things a bit, becoming the "bore" draw specialists and signing Norwegians (what a surprise!). By the end of the season, Leeds had finished lower than where they were when Wilko was sacked. But the clearout had started, and when Paul Hart and Eddie Gray's Youth Team walked away with the the Youth Cup and the Northern Intermediate League, prospects for the future didn't look that bad. And none of it was down to GG.
1997-98 was the first season we could really judge GG on his own side. He'd picked up a bargain or two in the close season, notably Jimmy-Floyd Hasselbaink - who scored on his debut at home to Arsenal. An early season highlight was the victory over Manchester United at Elland Road - a 1st half header from David Wetherall putting Leeds in front, and with Leeds scoring 3 goals or more in 14 matches this season, GG appeared to have put the 'bore' tag behind him (though this was at the expense of a leakier defence). Harry Kewell and Lucas Radebe started to make themselves not just automatic choices, they became the fans' favorites - even ahead of JFH's goal-scoring exploits. To my partial relief, Leeds went out of the FA Cup at the quarter-final stage. Wolves beat Leeds 1-0 at Elland Road, with JFH missing an injury-time penalty - but since I was booked on honeymoon at the time of the FA Cup Final, I think I can be forgiven for being slightly pleased that a serious personal dilemma had been avoided.
1998-99 once again saw Leeds in Europe. Domestically, the dour attitude had returned: it was as if GG had reminded the team in summer training that all that goal-scoring was not The Graham Way. CS Maritimo were beaten on pens, but there was a strange atmosphere in Madeira as it became clear that all the rumours and innuendo from Slimeball Graham's Grub Street pals was going to come to fruition. Peter Ridsdale entered the Leeds end and explained that GG had basically told them that he was intending to renege on the long-term contract he had signed less than a year before.
O'Leary!
Leeds cast around for a replacement: it took some time and much embarrassment before Leicester persuaded Martin O'Neill that he couldn't talk to us, and so when we eventually asked GG's assistant to take charge on a permanent basis, it is understandable that David O'Leary was a little bit wary. On the pitch, he let his teams do the talking. Throwing in youngsters like Stephen McPhail, Jonathan Woodgate and Alan Smith to complement the now-established Harry Kewell and Ian Harte, the fans and the sports writers saw a new, vigorous and dynamic Leeds side.
The young team lost narrowly in Rome, and held the Italian side to a goalless draw at Elland Road. A week later, they were out of the Worthington Cup, beaten by two late late goals at Leicester. Then we had the fairy story of the season. Leeds were 0-1 down at Anfield to a Robbie Fowler penalty. 18-year-old Alan Smith - who was only called into the squad at the last minute - came on as a substitute and with his first touch in first team football found the back of the Liverpool net. Leeds went on to win 3-1 and Smith would score another 8 goals in the season. A 7-match winning streak - and 11 matches undefeated - saw Leeds safely home in 4th place and once again bound for Europe.
With David O'Leary at the helm as the 1999-2000 season approached, things were looking bright for Leeds United.
Euro-wonderland, Euro horrors
And so it proved. David O'Leary put himself across as a "naive young manager" and his charges were "just babies". But those babies played an attacking and high-pace game under the coaching of Eddie Gray, and this time round AS Roma were beaten over two legs as the UEFA Cup run gathered pace. The excellent run in Europe was matched by continuing good form in the League, and a win at Watford in October had taken the team to the top of the table - a position maintained through to the new year. The squad's lack of depth meant that the league position always looked unsustainable, and second place on Valentines Day led to fourth place by Mayday - but a David Wetherall goal for Bradford on the final day of the season enabled his former club to sneak up into third place and gain a chance of Champions League football the following season. Meanwhile off the field, O'Leary's failure to control his "babies" sowed the seeds of his ultimate downfall. Jon Woodgate and Lee Bowyer were involved in an incident outside the Majestyk night club in Leeds that left a young man in hospital - and the fact that the victim was Asian meant that the players, club and fans were immediately under the spotlight as the anti-racist industry decided that due process and the basic premise of innocent-until-proven-guilty should not be applied. It was to take nearly two years to finally resolve the criminal case - Bowyer was cleared but was left under a cloud by the judge's comments, and Woodgate convicted of affray and sentenced to community service. During the investigation and trial Woodgate's form would fall apart - but Bowyer managed to thrive on the pressure and continued to be a driving force for Leeds.
The UEFA Cup run continued, and a convincing home win over Slavia Prague in the quarter-finals meant that the defeat away from home wasn't enough to stop Leeds reaching their first European semi-final in 25 years. The draw for the semi-finals was made while we were still out there: Galatasaray, away from home in the first leg. More than a few people shook their heads and said that this was one European trip they wouldn't be making - they had seen how the Turks had treated other visiting players and fans over the last few years and decided that Istanbul was just not worth the risk. Sadly the pessimists were to be proved right. The events of 5 April 2000 will long be remembered by many Leeds fans, the murderous actions and attitudes of many of the Galatasaray fans will never be forgiven and the deaths of Christopher Loftus and Kevin Speight will never be forgotten. It was bad enough that two men were stabbed to death because of an apparent insult by someone else, but the general indifference by the police, Turkish FA, Galatasaray football club and UEFA made it clear how little they cared. The 2-0 defeat, biased refereeing and continued abuse from the Galatasaray fans in a game that should never have been played just heaped on the pain. The only positive thing that came out of all of this was the emergence of chairman Peter Ridsdale as a voice of sanity in the middle of the confusion. From being seen as a backroom placeman on the board, the way he handled the press and authorities in Istanbul impressed the fans and media - but once again this can now be seen as one of the causes of the collapse that was waiting just around the corner.
The return leg in Leeds had the most poisonous atmosphere of any game I've ever attended. Running battles between police and fans, attacks on a Turkish TV crew and a game in which further abysmal refereeing saw Harry Kewell sent off and Leeds' best chance of a comeback removed before half-time. Leeds were out of the UEFA Cup, but managed to do enough over the last five games to secure third place and the chance of a Champions League spot for the following season.
A summer spending spree saw the arrival of Olivier Dacourt and Mark Viduka - strengthening the midfield and giving new impetus to the attack. League form early in the season was indifferent, and although Leeds managed to get past 1860 Munich to make it into the league stages of the Champions League, that too had a poor start with a 4-0 defeat in the Nou Camp that also saw Lucas Radebe stretchered off. But one week later, things started to turn around. AC Milan were the visitors to Elland Road and somehow Leeds held out until the 89th minute before snatching a victory as Lee Bowyer's speculative shot was spilled by Dida, dropping just over the line to send Elland Road wild. Five months on from Istanbul, and we were facing another Turkish side - Besiktas. A 6-0 demolition at Elland Road exorcised a few ghosts, and a goalless draw in Istanbul saw no casualties off the field as the authorities stuck all the arriving fans on a boat from the moment they reached the airport to keep them out of trouble. On the field, there was a significant victim: Michael Bridges caught his studs in the turf and damaged his ligaments - an injury that was to rob Leeds of a 20-goal striker for most of the next three years.
The squad was beginning to suffer from its lack of depth again: although Paul Robinson was proving to be an able deputy for Nigel Martyn after Leeds' number one keeper had gone off injured against Charlton, the team that Leeds had to field at Old Trafford was seriously under-strength, but they were battling well and it needed significant assistance from Jeff Winter and his linesman to give the home side a victory. Barcelona returned to Elland Road and were given a far tougher examination than the one they had faced at their own ground: a Lee Bowyer strike on 5 minutes gave Leeds the advantage, and Paul Robinson was just 10 seconds away from keeping a clean sheet when Rivaldo finally managed to equalise. But Barca had needed a win from that game after a couple of poor results earlier on. Leeds went to the San Siro knowing that a draw would see them and AC Milan through to the next stage. There were rumours of financial inducements from the Catalan side at the time, but Milan were clearly looking for a win and it was only in the last few minutes of the game with the scores tied at 1-1 that both sides decided to accept the result and coast to qualification.
In the league, performances were beginning to suffer as injuries and the number of games stretched the squad. Home defeats by West Ham and Villa and reversals at Southampton and Leicester left Leeds 13th in the table by New Years Day. But that was a turning point: only Newcastle and Arsenal were to take all three points from Leeds before the end of the season, and the return of a few key figures - and the availability of world record signing Rio Ferdinand - saw Leeds sprinting back up the table to finish fourth.
Meanwhile the group draw for the second stage of the Champions League had given Leeds just about the hardest possible selection of opponents: Real Madrid, Lazio and Anderlecht. Real Madrid had given Leeds a footballing lesson to win 0-2 at Elland Road, but an Alan Smith goal ten minutes from time saw off Lazio in Rome. Anderlecht came to Leeds with plenty of condescending comments - and deserved the 0-1 lead when they had it, but the fighting spirit that had carried Leeds this far worked again, and a possible defeat was turned round to a 2-1 win. Anderlecht were even more cocky about their prospects at home - undefeated in 20 games they were. But Alan Smith scored after 13 minutes, and before half-time Leeds were 0-3 up through Viduka and Smith again with a brilliant lob. The Belgians pulled a goal back, but Mark Viduka was shoved in the box and Ian Harte made it 1-4. More importantly that night, Lazio failed to beat Real Madrid - which meant that Leeds were through to the quarter-finals no matter what happened in the two remaining games.
An away defeat in Madrid - courtesy of a handball goal from Raul and a dodgy bounce that beat Nigel Martyn - wasn't anything to worry about, and when Leeds and Lazio fielded a bunch of reserves for a 3-3 draw, we just sat back and enjoyed the goals. So on to the quarter-finals and the visit of Deportivo La Coruna. Their coach had clearly not been well-briefed on how to handle the build-up to a game against Leeds. Like Anderlecht in the previous stage, we were told how it was going to be a walkover for the Spanish team and how we were very lucky to have made it this far. "3-0 to the weakest team" was the response from the Elland Road crowd after 90 minutes of football. The return in the Riazor was a different story: Leeds were under siege for 90 minutes and were more than a bit lucky to hang on for a 0-2 defeat, but a return to Spain beckoned as we heard that Valencia had beaten Arsenal. Unfortunately, that's where the run ended. A solid defensive performance by Valencia at Elland Road gave them a goalless draw to take back to the Mestalla, and when we touched down in Spain we heard that UEFA had suddenly seen a tackle by Lee Bowyer that they didn't like, so we were missing one of our most influential players for the return leg. For the second time in Spain that year the home side were allowed to take the lead by handling the ball into the net, but the game was totally bossed by Gaizka Mendieta, and he thoroughly deserved his goal as much as Juan Sanchez deserved nothing more than a red card for his deliberate cheating. As it was, the red card went to Smithy, frustrated and wound up in the dying minutes - a sad note to sign off such a great season.
Fourth place in the league wasn't bad - but it would mean that there would be no Champions League football at Leeds next season, and without that money or prestige, the first hints of future problems started to appear.
....and I know this is now a looong way out of date: a combination of deep depression at what's happened, the presence of all of the day-by-day activity in the news section of the website and a general lack of time has knocked this down the priority pile.